Help the Twiga Walinzi Scientific Research Project
As part of the Twiga Walinzi Initiative to study and conserve reticulated giraffe in northern Kenya, researchers are trying to better understand giraffe habitat preference, movement patterns, and occupancy. As part of this research, a grid of 100 motion activated trail cameras is deployed on two conservancies in northern Kenya. By deploying these cameras, researchers can obtain amazing insights into how giraffe are moving throughout this vast and dynamic landscape as well as how they are interacting with livestock and people.
Already these cameras have collected over 2 million images! 
WildwatchKenya.org was launched to help process this data quickly and give people all over the world a way to help giraffe and see firsthand the data being collected in northern Kenya. All of the images from the trail cameras are uploaded to this site and people from anywhere in the world can log-on and help identify the species in the images.
Initially, your help is needed to verify if the images contain any animals and help correctly ID the animals in the images. As the data is processed, images marked as having giraffe will be uploaded on the GiraffeSpotter database which helps researchers keep track of individual giraffe and monitor their movements over time.
You can be a Twiga Walinzi which means "Giraffe Guards" in Swahili.
You can help save wildlife in Kenya!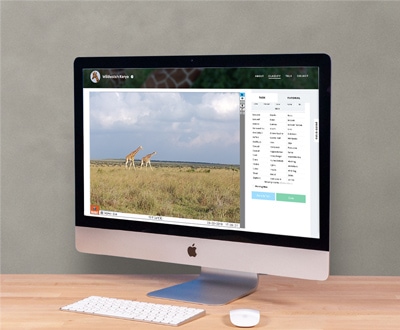 In this project, you'll be reviewing photos taken by trail cameras placed within two nature preserves in Kenya. In many cases, you'll be one of the first to see them!
By identifying animals you see in the photos, you'll help us:
Find out what animals are in the area
Track their movements
Understand a bit about what they are doing
Aid in their conservation
Select the type of animal you see.
In each photo, pick what animal you see, from the list on the right of your screen (see example of the list above). If you need a little help, use the guides above the list of animals: "Like – Pattern – Color – Horns – Tail – Build" to narrow it down. Then click on the name of the animal in the list.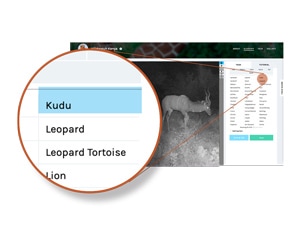 Click number and behaviors.
After selecting an animal in the list, a classification window will appear (see example above). Choose how many of that type of animal you see. Then choose the behaviors you observe in the photo, and answer the other questions if applicable. We are looking not only for what types of animals there are and how many, but also the basics of what they are doing!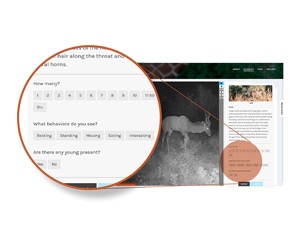 Select all other animals present in the photo.
Repeat steps 2 and 3 for every animal you identify in the photo. That also includes humans and livestock (goats, sheep, cows)—we are tracking interactions between wildlife and people, too.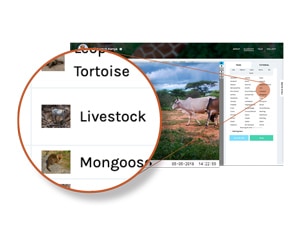 You may come across photos without any animals (or people and livestock). Just select "Nothing Here" underneath the list of animals and move on to your next photo. If you see an animal but it is blurry or you only see part of it in the view, please give your best guess as to what it is. Really! Several people review each photo, so the guesses put together help us narrow down what the animal is.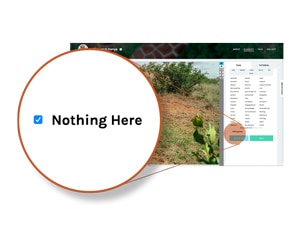 You can find photos and additional information about each of the animals in our list by clicking on the "Field Guide" tab at the right of the classifying screen. Thank you for your valuable help with this project—we're grateful for your participation!