Please Donate!
Donate to Save Giraffes Now to support on-the-ground projects that are helping save giraffe from extinction.
Help us save giraffe every time you shop with AmazonSmile
Meet Giraffe "Up Close and Personal"
Visit giraffe in zoos and wildlife preserves near home. Feed them lettuce and try to sneak in a quick kiss!
Travel to Africa
See giraffe in the wild on safari.
Visit researchers working to save giraffe from extinction.
Venture out on horseback safaris to see giraffe at eye level.
Stay at the wonderful Giraffe Manor in Nairobi
For a specially developed giraffe-centric trip, we highly recommend our wonderful collaborators 

Tribu Travel

. Marni and team will create a unique, bespoke, and intimate travel experience for you, experiencing the best of Africa, local communities and magical wildlife (especially giraffe!). Please reference Save Giraffes Now when contacting the Tribu team, and a portion of the proceeds will be donated to Save Giraffes Now for impactful on-the-ground giraffe conservation projects across Africa.
Buy Giraffe Artwork
Purchase works of art that highlight the beauty and uniqueness of giraffe.
Educate the Kids
Give giraffe toys, puzzles, coloring books, etc. as gifts to the younger generation. Throw a themed birthday party. Best yet, be a giraffe for Halloween!
Spread the Word
Learn more about giraffe and spread the word about both their charms and the challenges facing them today.
Read books and articles about giraffe and watch movies that include giraffe.
Talk to your friends about the sweetness and plight of giraffe.
Upgrade Your Hydration Bottle
The Giraffe Bottle 'Save Giraffes Now' Stainless Steel Bottle is a premium double wall vacuum insulated steel bottle that keeps your drink the ideal temperature and resists condensation. Keeps hot drinks hot for 10+ hours and cold drinks cold for 18+ hours…longer when iced. Includes both an insulated handle lid and a threaded spout drink lid. 

For each of these limited edition bottles sold, $5 is donated to Save Giraffes Now (SGN), a non-profit organization. 
Donate Your Car to Save Giraffes Now
Keeping that extra car can be expensive. Rather than continuing to pay for insurance, maintenance, and registration fees, why not donate it to Save Giraffes Now instead? Our vehicle donation program makes donating easy with free pick-up and handling of the sale and paperwork.
To learn more, call 855-500-7433 or visit careasy.org!


Suggested Books and Movies
Recommended textbook
The Giraffe: Biology, Ecology, Evolution, and Behaviour  by Bryan Shorrocks
Giraffe: Biology, Behaviour and Conservation by Anne Innis Dagg
Recommended book of photography
Giraffe Reflections by Dale Peterson and Karl Ammann
Recommended reading
Zarafa: A Giraffe's True Story, from Deep in Africa to the Heart of Paris by Michael Allen
West with Giraffes by Lynda Rutledge
Recommended for children:
A Giraffe and a Half by Shel Silverstein
The Story of Little Laffe by Ronna Kurash
Giraffes Can't Dance by Giles AndreaeG
Save the…Giraffes by Anita Sanchezles Andreae
"Saving Giraffes: The Long Journey Home"
"The Last Giraffe"
"The White Giraffe Movie"
"National Geographic Secrets of the Giraffes"
"The Woman Who Loves Giraffes"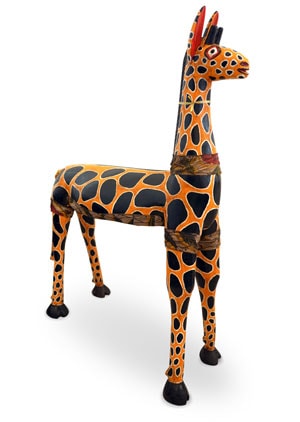 This giraffe sculpture was handmade by Mali villagers to use in their local puppet shows.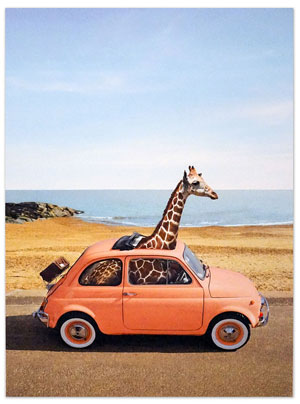 "If not now, when? If not you, who?"
The problems facing giraffes in the wild are daunting but not insurmountable. Your support can help us turn the tide and save them. They need our help.
The time is now.